The Easy

Single Touch Payroll Software

For Accountants & Tax Agents
Need an easy way to manage your clients' STP? Like the idea of someone to handle all your clients' payroll and STP questions? Set up all your clients in minutes. All with your own personal account manager.

Let Easy Payslip take the STP burden off your hands and get 4 months free for each of your client accounts.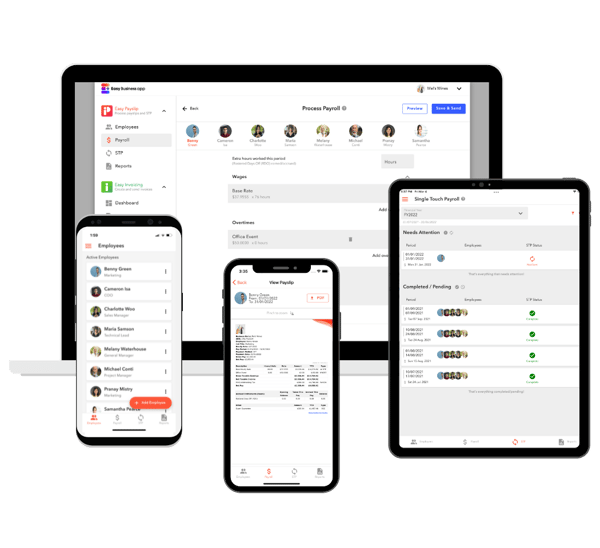 Learn more about how Easy Payslip
can help you and your clients
Run STP for your clients in just 3 easy steps:
1.
Login to your Advisor Portal to view all your client accounts.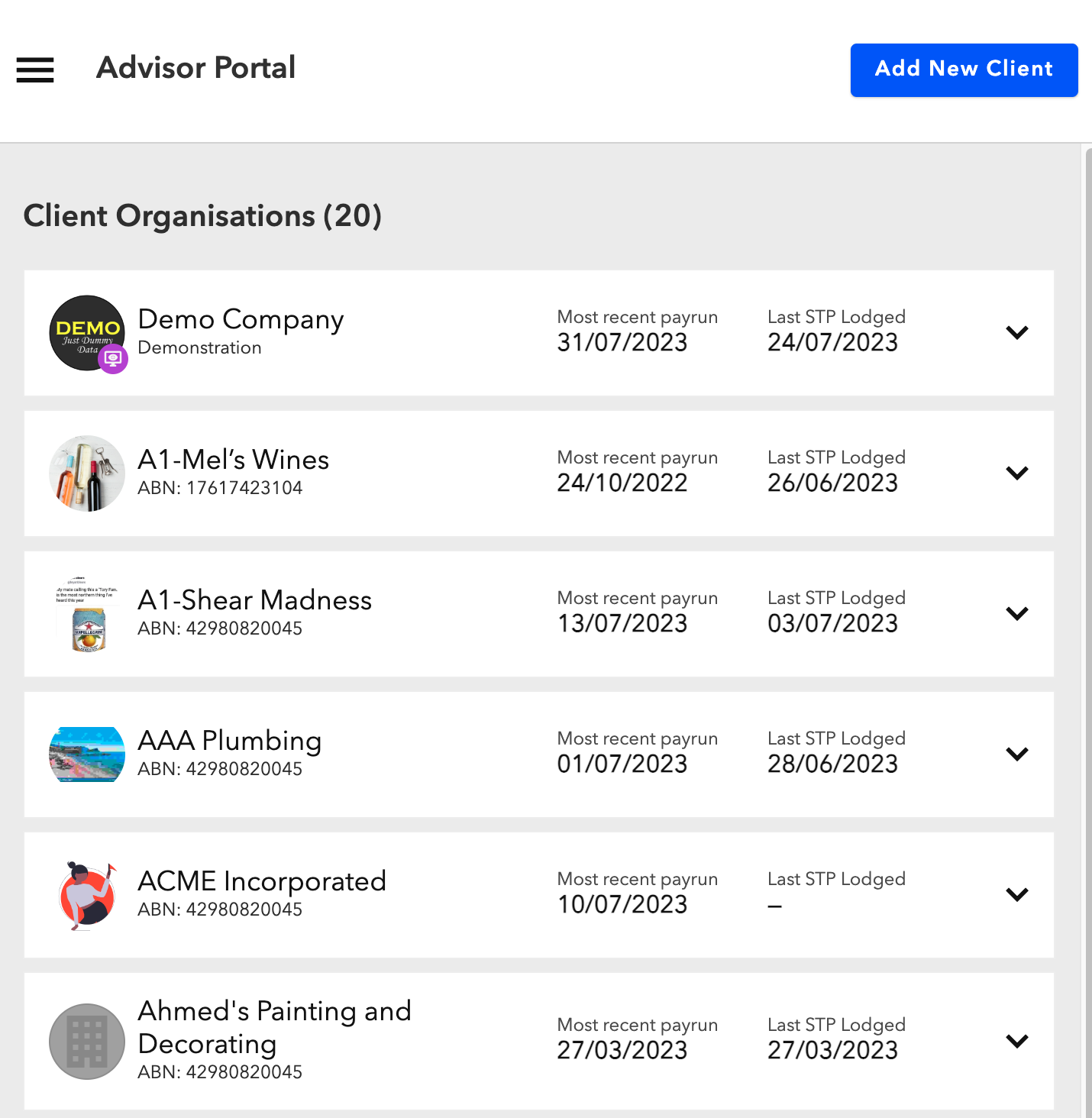 2.
Select an account and process their payroll.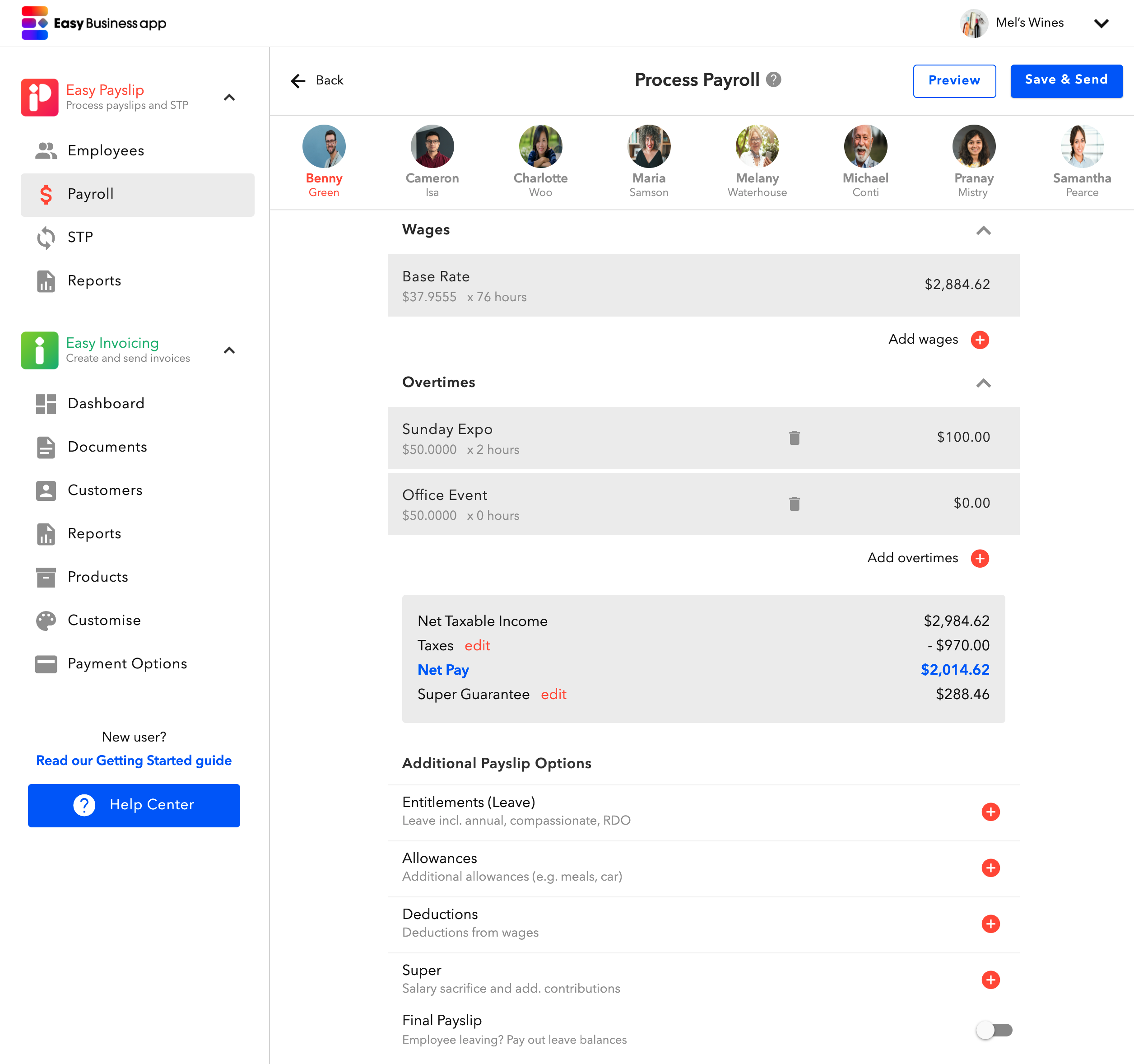 3.
Lodge their STP files, run reports and more.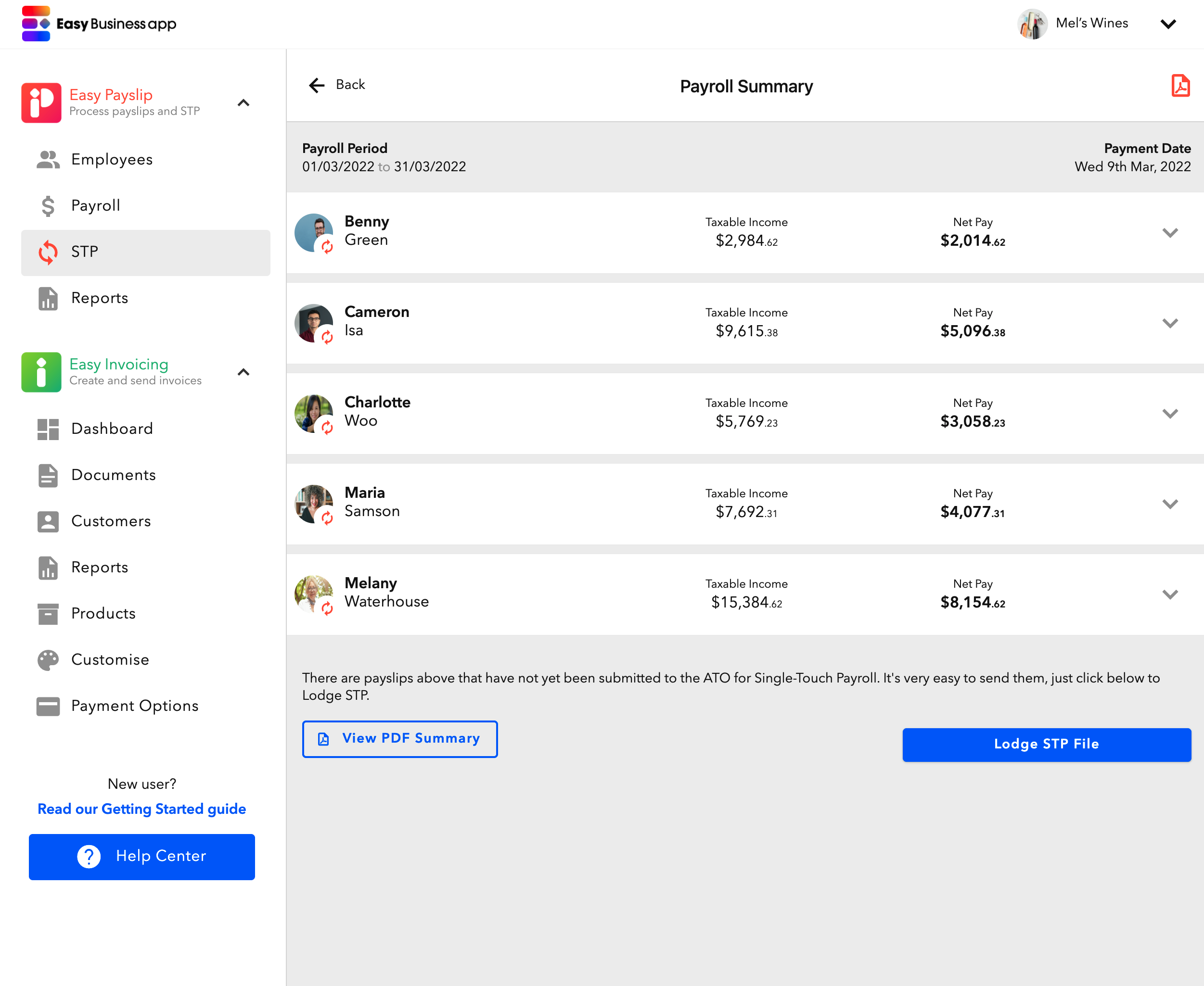 Your clients also have the option of managing their own payroll/STP using our web or mobile apps.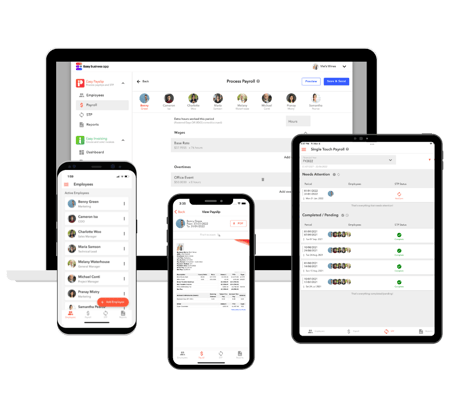 Get Started
Ready to take a look? Simply create a free account.
Have more questions, or want to see more? Book a demo with us, email or call us on 02 8084 9222.
Advisor Portal for Accountants
Access all your clients' accounts from one place — on web or mobile.
See at a glance the most recent payrun date and the last time STP was lodged.
Invite clients to set up their own organisations, or if you have a large number to onboard all at once, we can even create them for you via Excel upload.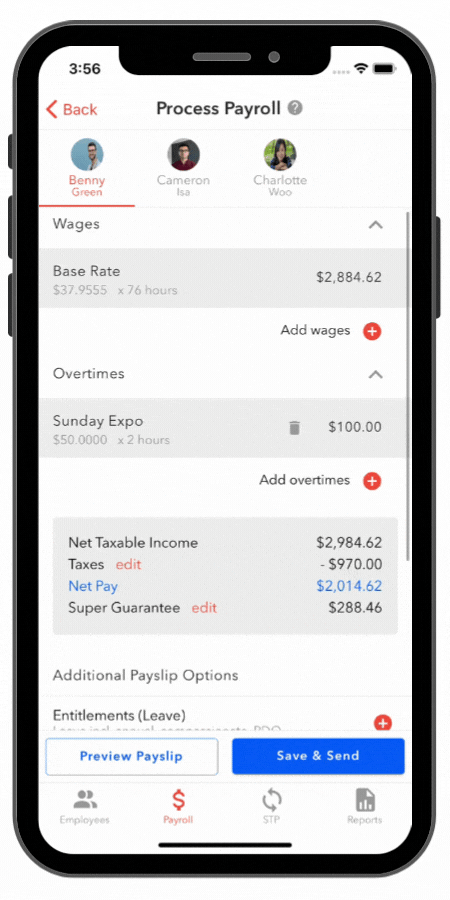 Create and Email Payslips
Create payslips in seconds, automatically emailed to your client's employees.
No more time spent manually calculating tax and super.
Multiple rates, overtime, commissions, deductions, allowances? All the options are there.
STP Phase 2 compliant and ATO-approved
Once you have created your payslips each period, simply click to lodge the payroll details with the ATO.
View your completed STP reports for a full history of what you've submitted. STP couldn't be easier!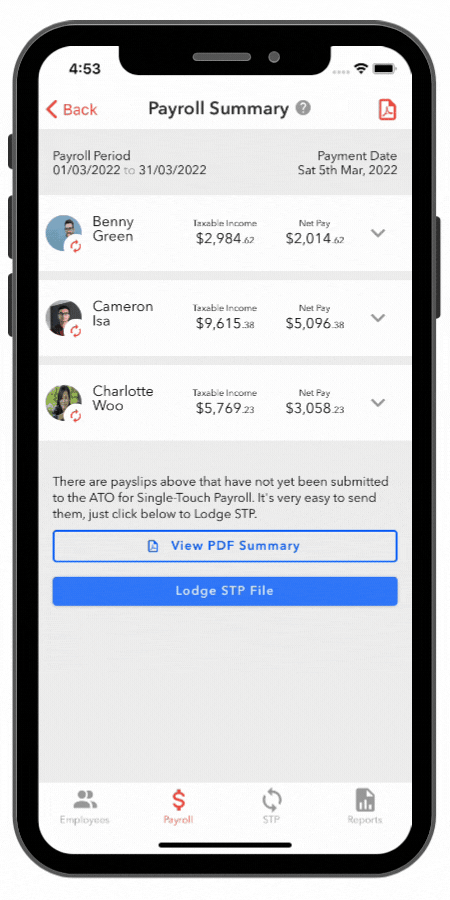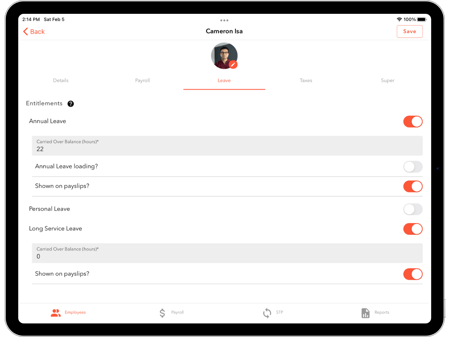 Track Employee Entitlements & Superannuation
Track annual leave, personal leave and long service leave for employees.
Expert Reporting
Easy Payslip's smart reports allow you to track wages, tax and super.
All the summary and detailed information you could wish for, including calculating BAS Return W1 and W2 amounts for you.
And with free access to Easy Reports included, you can run P&L, Cashflow and BAS reports in seconds.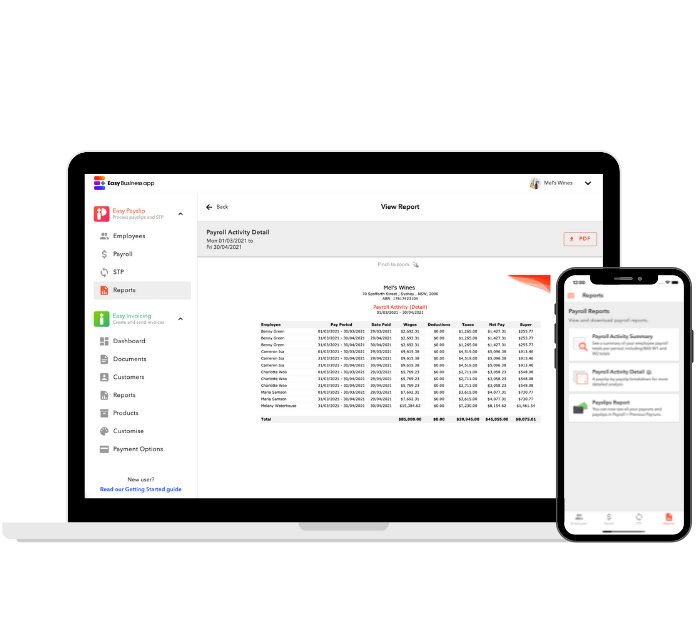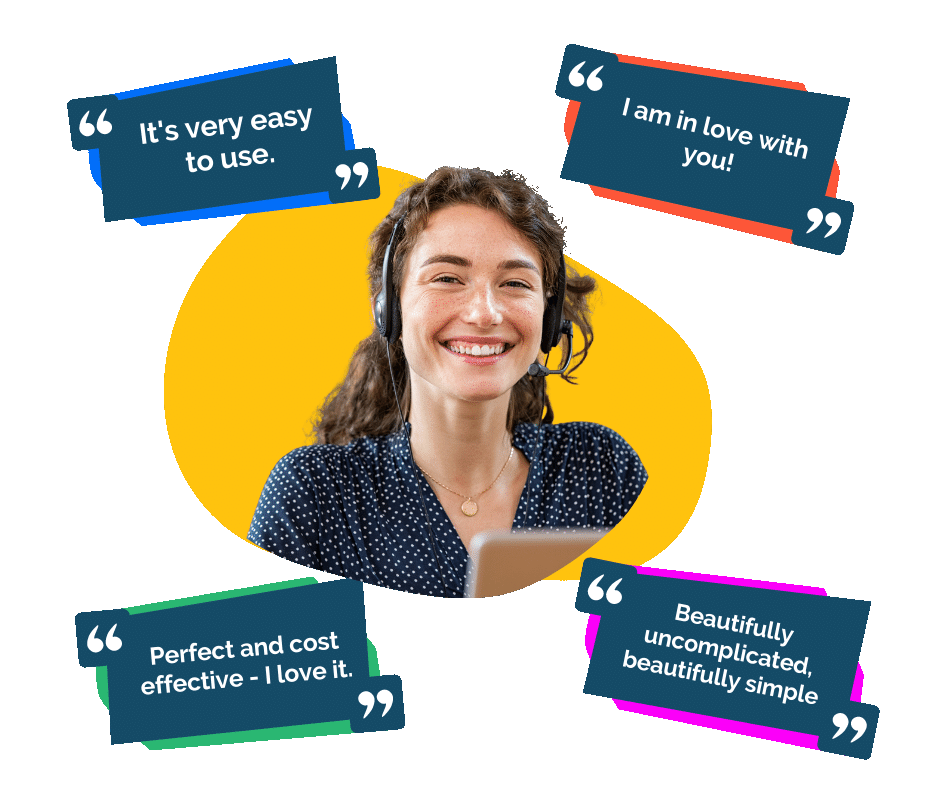 Great Customer Service
Help is always just around the corner with your own Sydney-based account manager.
Give us a call on 02 8084 9222 or email us and we can help you with anything from simple setup questions through to complex payroll scenarios.
Testimonials
Hear what small business owners and accountants love about Easy Payslip
CA Partners
Sydney, NSW
CA Partners, a Sydney-based accounting firm, had over 150 clients that were not STP compliant. They provided Easy Payslip with the basic data to setup STP, and Easy Payslip did the rest.
The firm can now access and manage all 150 of their client accounts through their Easy Payslip accountant dashboard and have the flexibility for their clients to access their accounts and run payroll and STP themselves.
Peter Kunzli
Bookkeeping & Financial Management, Ballina, NSW
"I am really impressed at how easy it was to do the payrolls and submissions. So simple to set up and customise each quarterly pay run.
Well done – you beat all the other 'simple' STP software hands down."
John
Owner, Choice Automotive Repairs
Kogarah, NSW
"We didn't know much about payroll or STP, but Easy Payslip made it so simple and were always a phone call away."
Mark
Owner, MD Painting Services
Perth, WA
"Easy Payslip saves me so much time...I just put the figures in and it does it for me!"
Claudio
Director, Stay Bonanza
Seaholme, VIC
"The company name says it all - it's easy to use, and they offer excellent customer service."
Suzi
Owner, Gents & Rascals
Maroubra, NSW
"It's a two-second job doing payslips and STP! The app saves me hours of spreadsheets and data entry."
MBC Partners
Sydney, NSW
MBC Partners had several clients needing to onboard STP. Most of these clients called Easy Payslip, and we assisted them in setting up. Others went through our 10-minute onboarding process and set themselves up.
Now, all these clients are managing their payroll and STP. If they have any questions, Easy Payslip provides them with the assistance they need.
Easy Payslip Pricing
After four months free for each client, our pricing plans are super affordable, no matter the size of your clients' business.
All plans are fully-featured - the only difference is the number of employees each client has:
$8.80/month - up to 4 employees
$12.95/month - up to 6 employees
$19.95/month - unlimited employees
Or see pricing for all Easy Business App modules.
Note: Easy Payslip pricing will be increasing from October 1, 2023.
New prices will be $9.95 for up to 4 employees, $13.95 for up to 6 employees and $21.95 for unlimited employees.
Get Started
Ready to take a look? Simply create a free account.
Have more questions, or want to see more? Book a demo with us, email or call us on 02 8084 9222.
Frequently Asked Questions
What are the benefits of using single touch payroll software for accountants and tax agents?
There are many benefits of using a single touch payroll software for tax agents and accountants.
It is now a requirement that employee tax and superannuation information is reported to the Australian Taxation Office (ATO) once payroll has been processed. Single Touch Payroll (STP) software allows employers to meet all ATO reporting requirements while also allowing accountants and tax agents to quickly and easily manage their reports on behalf of their clients.
If you're an accountant or tax agent looking for a reliable small business accounting software with payroll, Easy Payslip (part of Easy Business App) may be the perfect solution for you.
And did we mention the first 3 months is free?
Why choose Easy Payslip's single touch payroll for accountants over other software solutions?
Easy Payslip's single touch payroll for accountants is a one-stop solution for accountants wanting to handle a clients' payroll and STP reporting with ease. Easy Payslip's Accountant Dashboard allows you to quickly and easily access all of your clients' accounts from one convenient place, making organisation easier than ever.
With our handy dashboard, you can view and monitor multiple client accounts, as well as process payroll, STP and JobKeeper payments on behalf of your clients. Simply log into your Accountant Dashboard and select a client account, then run their payroll, lodge STP files, run reports and more.
With Easy Payslip, you can access your Accountant Dashboard at any time via web, tablet or mobile phone. No more complicated spreadsheets and no more managing separate systems!
What's more, Easy Payslip has special discount rates for accountants, and the choices of three simple pricing plans for small business owners. If you're a tax agent or accountant looking for the best accounting and payroll software for small businesses, look no further than Easy Payslip.
If you'd like more information on Easy Payslips great features, simply contact us today. Our Sydney-based support team is always here to help.
What if I want to do STP/Payroll on my clients' behalf?
Easy Payslip's Accountant Dashboard is the easiest way to setup and manage Payroll and STP for multiple clients.
You get direct access to all their accounts from the one place. And we can even set up all your clients for you, if you give us some basic information.
What about if my clients want to create their own payslips or do their own STP Reporting?
Clients can set up their own account on their choice of mobile phone, tablet or website, in only 10 mins. You have the option of helping them get started, or our team can do that for you. If they've got questions or need help, we'll be there to support them.
As their accountant, you can still have direct access to their accounts via your dashboard - allowing you to monitor, report and even create payslips and STP files on their behalf. Say goodbye to messy spreadsheets and emails.
How many clients can I manage through my accountant dashboard?
As many as you like! We have some accountants who manage hundreds of clients through Easy Payslip, saving them countless hours of administration and helping their small business clients stay STP compliant.
Can I use Easy Payslip on more than one device?
Yes. You can install the app on any Android phone or iPhone, as well as using our web app on your computer through a browser. All your data will synchronize between your devices.
Is there a limit to the 'unlimited' plan?
While there is no hard limit to the number of employees you can add (and we have tested into the hundreds) - our system is designed around the needs of small businesses. As such, we will generally be unable to offer support for any issues arising from the creation of more than 40 employee records per organisation.
I have another question that's not answered here
We hear you. Get in contact with our Partnerships Manager, Paul, at info@easybusinessapp.com or call 02 8084 9222.
We can organise a virtual demo to talk you through the platform, and work with you on a plan to onboard your clients. We'll take care of the hard-work here, so you don't have to!