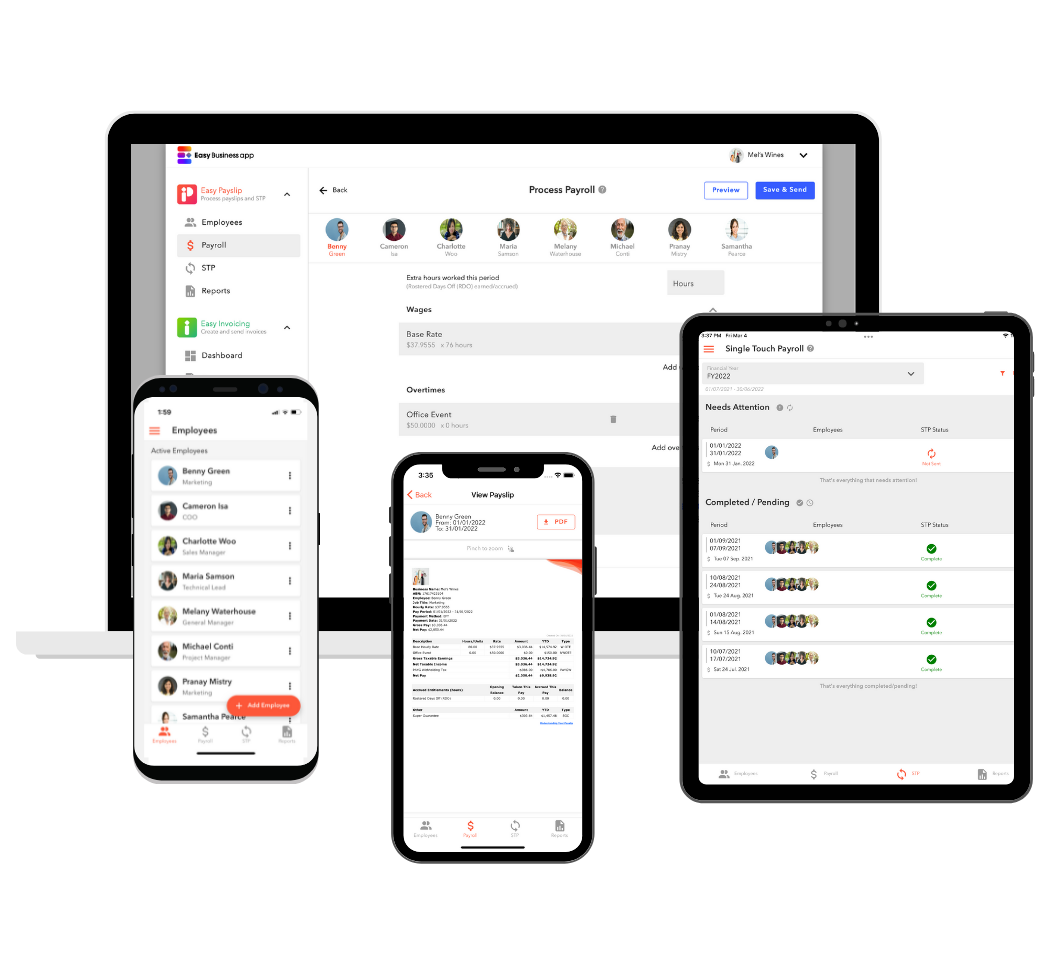 Payroll Software for
Small Business
There are a lot of challenges running a small business - but payroll doesn't have to be one of them.
Easy Payslip is the easiest ATO-approved payroll and STP solution for small businesses of any size, available for iOS, Android and web.
Running a small business can be challenging, with many demands on your time and finances. As a small business owner you want - and need - the time to focus on the things that you know will propel your business forward. As well as managing cash and workflows, there is time to be spent on marketing, finding new customers, looking after existing customers and managing staff. And you also need the time to do the things that are most important in life - spending time with friends and family, and relaxing!

When it comes to payroll processing for your business, you don't have the time to be bogged down in papers, spreadsheets, complicated systems and endless manual data entry. You need an easy yet professional payroll solution. It needs to have a simple set-up, be quick and easy to learn how to use and have ongoing user support from a locally-based customer support team.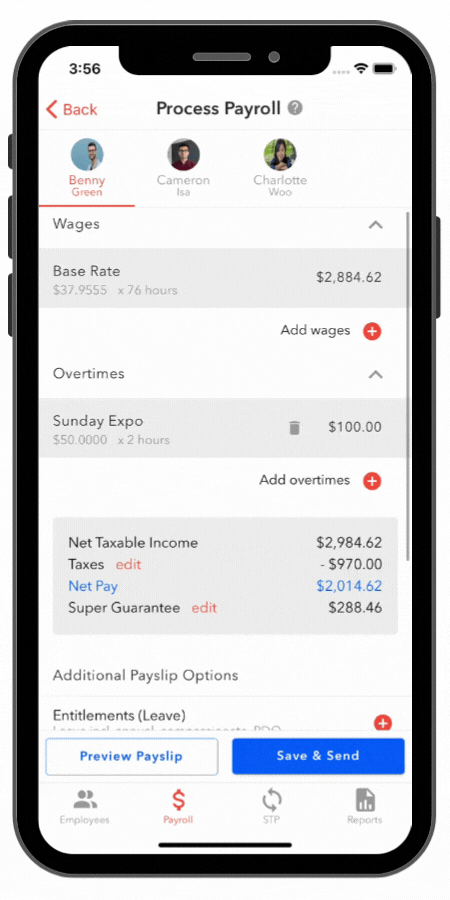 Put simply, you need payroll software for your small business that reduces the laborious yet necessary task of payroll processing. Perhaps most importantly, you need a solution that is Single Touch Payroll (STP) compliant. Easy Payslip's Single Touch Payroll app provides you with all of this, and more.
With Easy Payslip's Single Touch Payroll app, you can create and email payslips, track employee leave and entitlements, create smart reports and meet your ATO reporting requirements, all within a few clicks or taps. Easy Payslip's STP compliant app is the easy and convenient solution to your small business' payroll processing needs.
With easy to use technology and a friendly, locally-based customer support team always on hand for support, Easy Payslip makes it simple for you to do what you do best - run your business.
Are you ready to enjoy the benefits of the best small business payroll software online? Don't wait! Get started with your free trial today.
Try Easy Payslip for Free
Join the 10,000+ Australian businesses already using Easy Business App.
Get started today with a 30-day trial.
Frequently Asked Questions
What are the key features of Easy Payslip's payroll software for small businesses?
Easy Payslip is a leading provider of payroll and tax software for small businesses in Australia. Our easy to use software, using customer-led design and updates, enables you to generate and email payslips, monitor employee leave and superannuation, create expert reports, and lodge your payroll details with the ATO - all within a few clicks or taps.
Payslips are automatically backed up in the app, and can include provision for commissions, bonuses, overtime, allowances, deductions, per job payments and multiple rates. Annual, long service and personal leave can be tracked within the app, and leave balances are kept up to date on each payslip. Superannuation is also calculated and tracked, and includes options for additional contributions and salary sacrifice.
Our app can be installed on Android or iPhone, as well as a web app through your computer browser. What's more, all of your data is automatically integrated between your devices, meaning you can make changes and add data on the go. And with our flexible pricing system, you pay only for the most suitable plan for your sized business and there is no annual commitment.
Need your accountant to keep tabs on your payslips and STP? No problem - you can invite them to your account at any time. Plus, to make things even easier, Easy Payslip's software and app is the only STP that doesn't require setup or registration with the ATO.

Interested to learn more? Check out more of Easy Payslip's great features.
What are the benefits of payroll processing software for small businesses?
There are many benefits of efficient payroll processing software for small businesses.
Single Touch Payroll software enables small businesses to process common payroll functions such as generating and emailing payslips, and tracking employee leave and superannuation balances, quickly and simply.
With STP compliant software, employers are able to automatically report employee payroll payments and other information directly to the ATO, ensuring their business maintains their STP compliance.
What makes Easy Payslip's product a premium solution for small businesses?
If you're looking for the best payroll and accounting software for small business and would enjoy the added convenience of flexible pricing, you need look no further than Easy Payslip's Single Touch Payroll app. Our simple tools, and the expert guidance of our customer support team, make payroll processing for small businesses easier and quicker than ever before. No more headaches and no more manual calculations.
With our intuitive software, you're able to create and email payslips, monitor leave, calculate and monitor superannuation, produce expert reports and send ATO STP files, all in the one place. Even better? Our software is the only STP not requiring registration or setup with the ATO.
Accessible via Android, iPhone or web app, and with automatic synchronisation of data between devices, enjoy the convenience of processing your payroll anytime, anywhere.
Is this product suitable for all kinds of small businesses?
Yes. Easy Payslip's Single Touch Payroll app will benefit any small business - no matter the type of work that you're in. We pride ourselves on providing easy and affordable payroll software for small businesses in Australia across all industries.
Are there different pricing options for small businesses?
Yes. We offer a flexible pricing system on our payroll app for small businesses. Our pricing plans are dependent on the number of employees within the business, and start at $8.80 per month. Each plan includes the same great features, and can be changed at any time through the app.
Keen to learn more about bookkeeping and payroll software for small businesses? Get in touch today!