The Free Easy

Reports

App for Small Business
Get a true picture of your business health without having to lift a finger - all in the palm of your hand. For free.
Get your BAS numbers in seconds. See your profit and loss and cashflow in real-time. Sleep easy at night.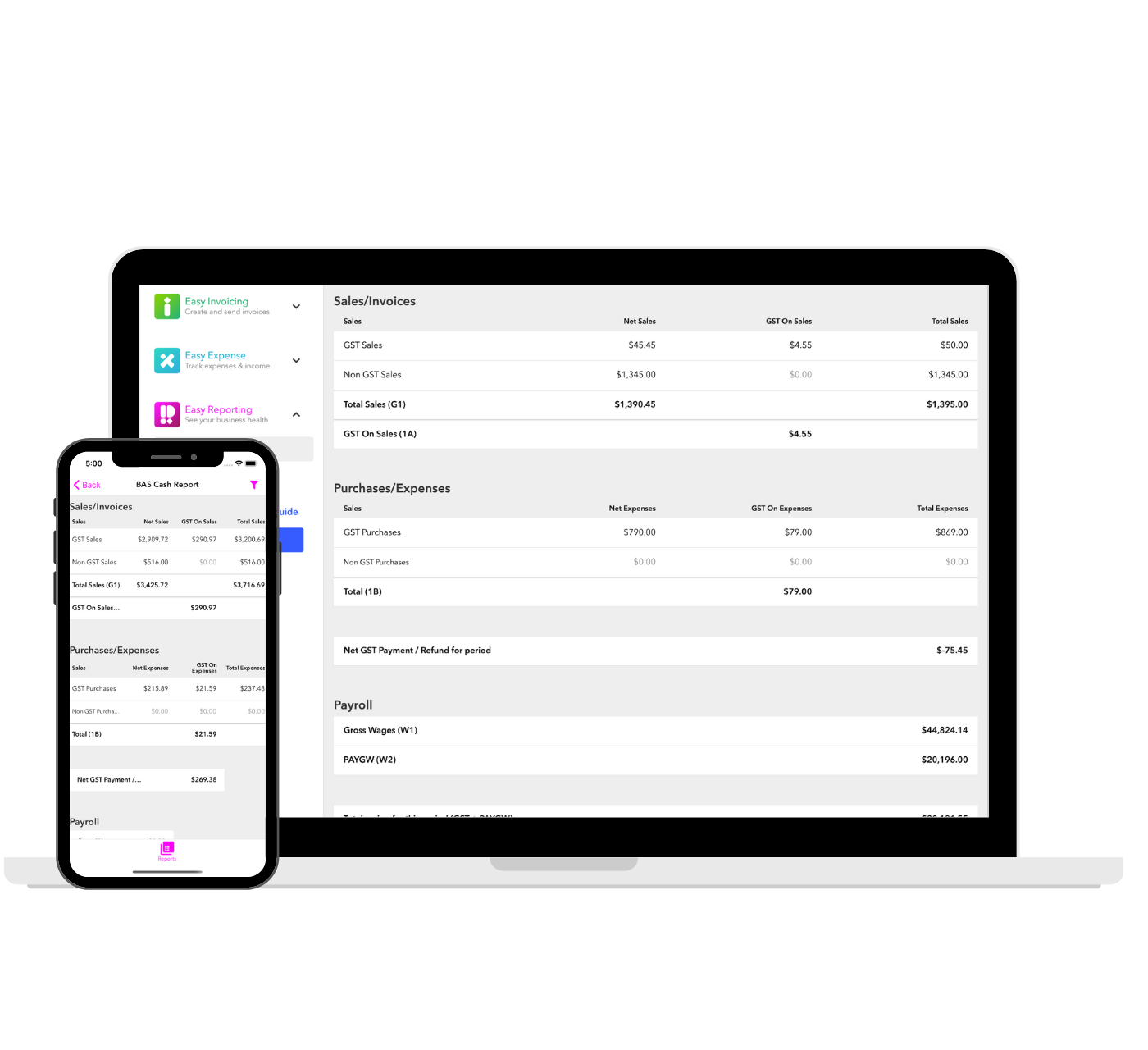 Simple but Powerful Reports
Easy Reports pulls data from every module of Easy Business app, bringing together payroll and super data from Easy Payslip, invoicing and payment data from Easy Invoicing and expenses and income from Easy Expense & Income.
See the true picture of your entire business in one place. For free.
Business Health Dashboard
Your Easy Reports Dashboard lets you see a true picture of your business health, in one easy-to-understand place.
Enjoy a simple view of your Income, Expenses, future income and profitability.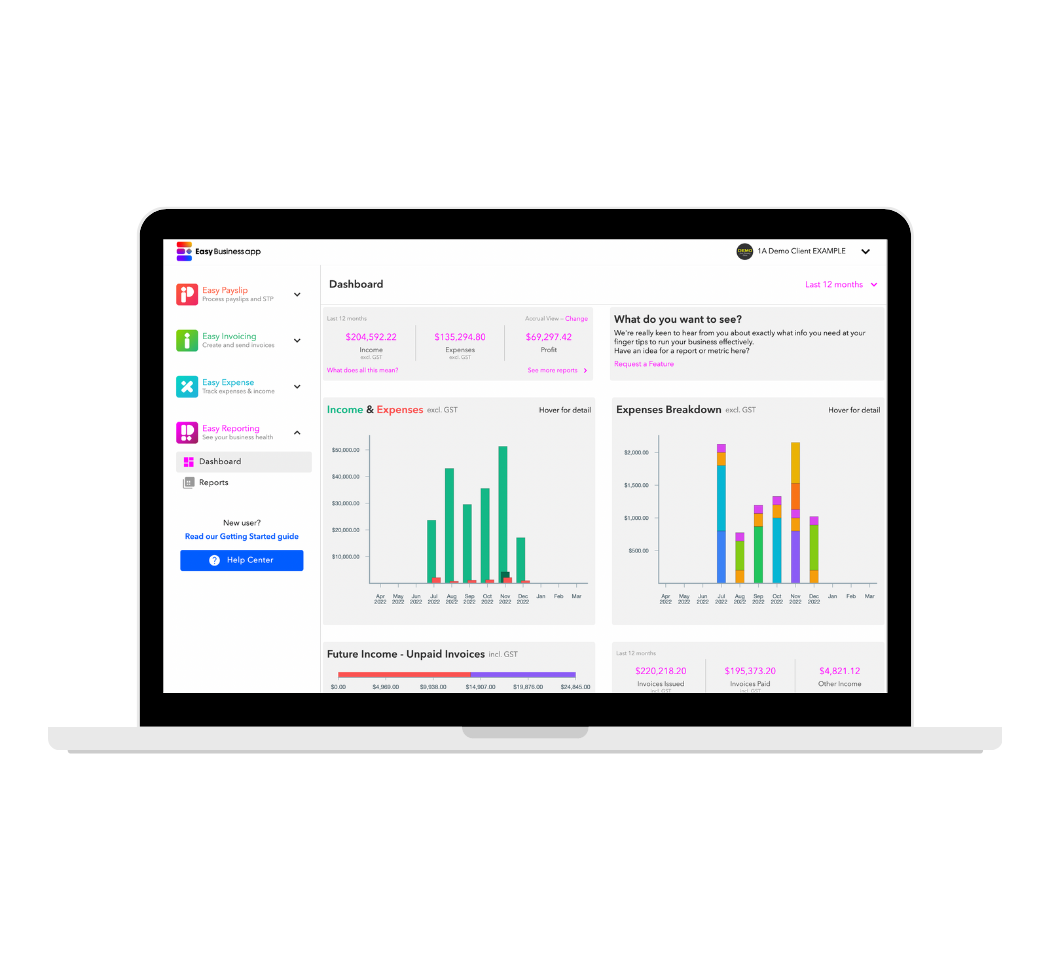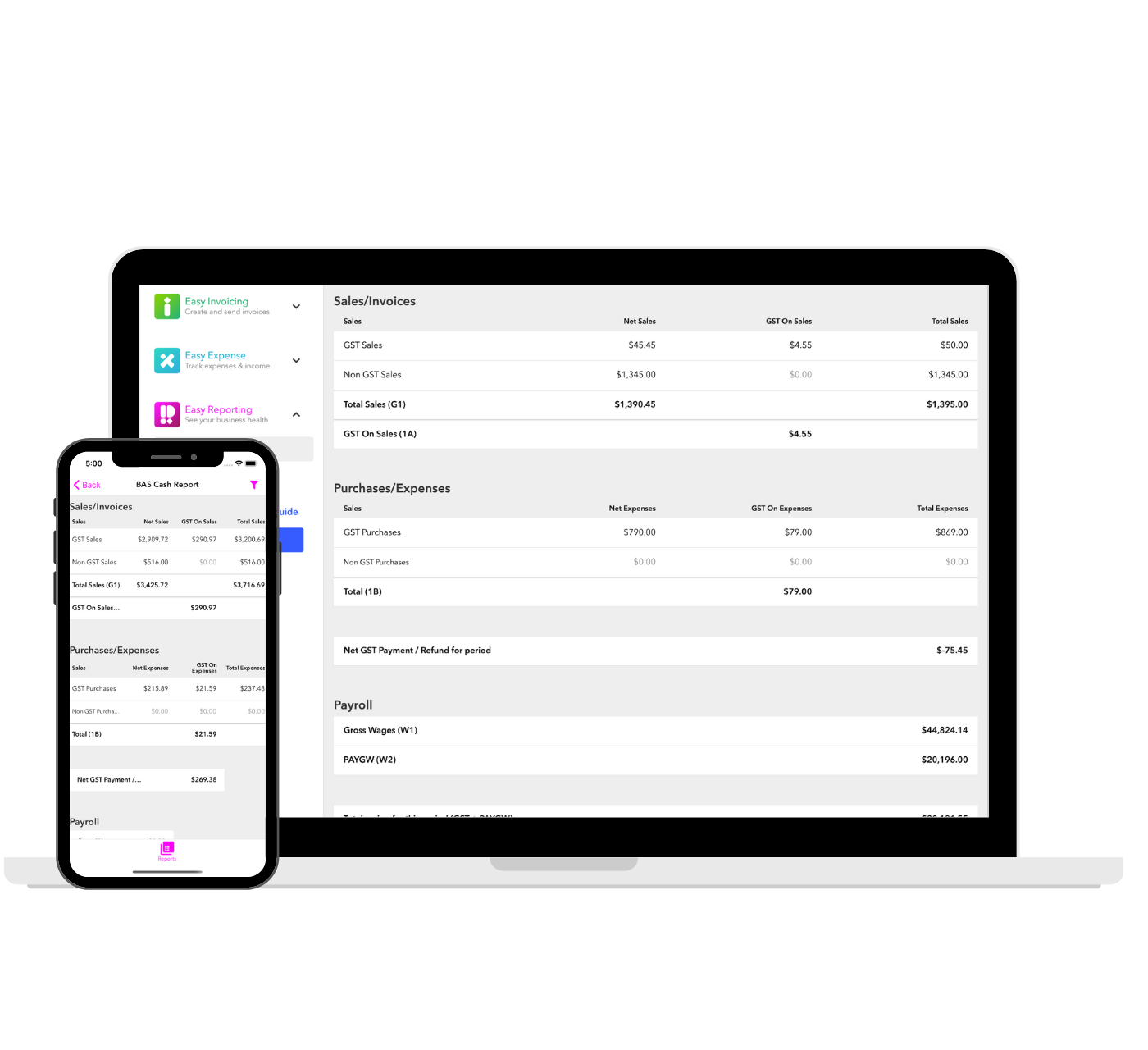 Simple BAS Reporting
Run a Business Activity Statement (BAS) report in seconds - and have the confidence to submit your own BAS return!
Our BAS report is clearly labeled to match the online ATO submission form, so simply run the report and enter the numbers in the correct fields and you're done. It takes less than a minute.
No more manual calculations, no more putting it off, and no more "I'm not quite sure it's right".
See the Real Health of your Business
With our Profit & Loss report, see exactly where you're making (and spending) your money and get a full picture of your business profitability.
Breakdown your expense and income categories, see your payroll and super and feel empowered to make great business decisions based on accurate data.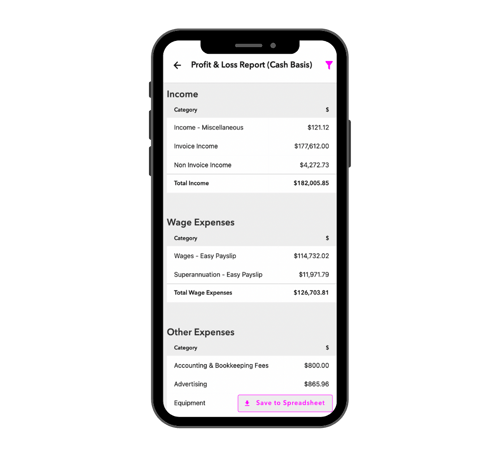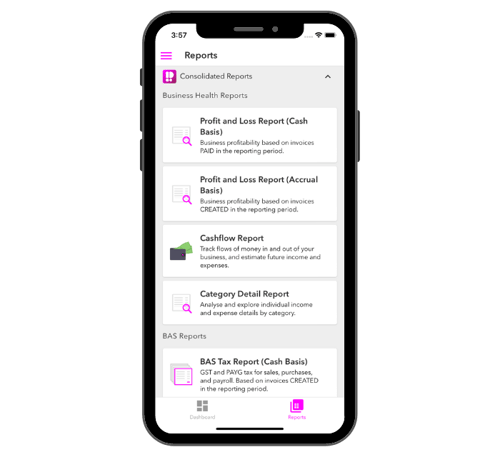 Get a Grip on your Cashflow
Most small businesses fail because they run out of money - not because they are not viable. Having a clear picture of your cashflow is essential so you don't get any nasty surprises!
With our Cashflow Report we include future cashflow modelling to include upcoming income, tax and super liabilities to give you the real picture.
No more nasty shortfalls caused by an unexpected GST payment you'd forgotten about!
Go Straight to the Source
From our Profit & Loss, Cashflow and Category Detail reports, you can tap on any figure to drill-down into a summary report of each document included.
And from there you can drill-down again to see the original document (Payslip, Invoice, Expense or Income).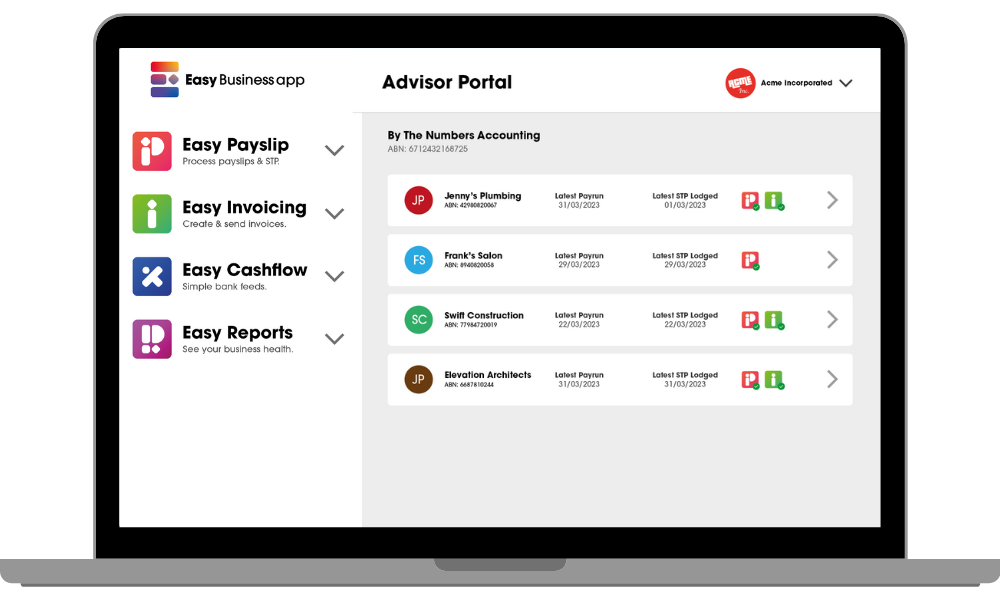 Accountant or Bookkeeper?
Learn more about how Easy Business App is the best tool for the job for your small business clients.
Easy Reports is totally FREE
Join the 10,000+ Australian businesses already using Easy Business App.
Get started today for free.
Simple
Tired of complicated software designed without normal people in mind? Yep, us too. Which is why we always find the easiest way.
Using our app means less clicks, less data entry and more time for the stuff that really matters - running your business.
Supported
With our Support centre and in-app help, we can get you unstuck in no time. But if you want some in-person support - we have you covered with our Australia-based local support team.
And yes, we have a phone number answered by real human beings. Unlike most of our competitors... 🤔
Share-able
Have someone who helps you out with your business admin, like a bookkeeper, partner, parent, accountant or all of the above?
You can invite as many people as you like to access your account - with no additional charge per member. Sharing is caring!
Secure
We have best-in-class security, and all your business data is stored right here in Australia.
Say goodbye to all those spreadsheets, shoeboxes and filing cabinets and let us handle it.
Don't take our word for it...
See what our customers have to say:
Barb
Owner, Sports Power
Armadale, WA
"Very easy to use and does the job for employees and the ATO. The Help Desk is AMAZING!!"
John
Owner, Choice Automotive Repairs
Kogarah, NSW
"We didn't know much about payroll or STP, but Easy Payslip made it so simple and were always a phone call away."
Mark
Owner, MD Painting Services
Perth, WA
"Easy Payslip saves me so much time...I just put the figures in and it does it for me!"
Claudio
Director, Stay Bonanza
Seaholme, VIC
"The company name says it all - it's easy to use, and they offer excellent customer service."
Suzi
Owner, Gents & Rascals
Maroubra, NSW
"It's a two-second job doing payslips and STP! The app saves me hours of spreadsheets and data entry."
Haley
Owner, DHMM Farming
North Eradu, WA
"Very easy to use, great support, and like that it works out correct rates for our seasonal workers on different visas "
Frequently Asked Questions
Is Easy Reports really free?
Yes - it's totally free.
While we do have subscription plans for some of our other modules (Easy Payslip), others, including Easy Reports, are completely free.
Unlike a lot of our competitors, we don't believe that you should have to pay extra to see valuable information about your own business.
Can I really submit my own BAS return?
Yep.
If you're using Easy Business App to manage your payroll, invoices and expenses, you'll find it's very simple to submit it yourself.
Our BAS report was designed to match exactly with the online ATO BAS submission form (we even use the same numbering and field labelling) - so it really is as simple as copying a handful of numbers and pressing that big "Lodge" button!
Can you add some more reports? Can I request one?
Yes! We definitely have plans to add more reports into Easy Reports in the future. We've launched just with the most critical reports - but there's certainly more to come.
We would love to hear what kind of reports you need to help you run your business.
Drop us a note at info@easybusinessapp.com or click to request a feature. We actively feed these ideas into our product roadmap to ensure we're always building the most important things to our users.
Can I use Easy Business App on more than one device?
Yes. You can install the app on any Android phone or iPhone, as well as using our web app on your computer through a browser. All your data will synchronize between your devices.
You can run the same reports on the mobile app and the desktop app - meaning you can always get a true picture of your business, no matter where you are.
What if I need to share my account, for example with my accountant?
You can easily share access to your Easy Business App account with your accountant. Simply go to 'My Organisation' in the app and click 'Invite Member' - you can invite anyone who helps you administer your business to access reports or even create invoices, add expenses, run payroll and submit STP on your behalf!
We don't charge you per user - so you can invite as many people as you like.